Personal Injury Attorneys in St. Louis, Missouri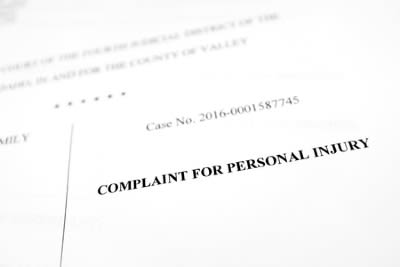 An unexpected injury caused by someone else's carelessness can turn your world upside down and create significant financial hardship. You don't have to face these challenges alone. Since 1984, we have helped thousands of accident victims through troubled times. Insurance companies have one purpose and one goal when it comes to your claim- to pay the least amount possible! We are here to make sure you get the best recovery possible under the law.
Types of Common Personal Injuries:
Neck Injuries, including Strains, Sprains, Herniated Discs, Whiplash Injuries and Spinal Injuries

Back Injuries including Strains, Sprains, Herniated Discs and other Spinal Injuries

Shoulder Injuries including Strains and Sprains, Rotator Cuff Tears, Nerve Impingements

Knee Injuries including Strains and Sprains, Torn Cartilages, Torn ligaments, Knee Replacements

Spinal Cord Injuries including Paralysis, Partial Paralysis, Loss of Muscle Function and Nerve Damage

Head Injuries including Brain Injuries, Concussions, Fractured Skulls and Injuries to Internal Organs such as the Heart, Lungs, Liver, Kidneys

Many Other kinds of Injuries, including Injuries to the Eyes and Ears as well as Broken Bones and Various Types of Fractures
WHAT KINDS OF EXPENSES AND DAMAGES CAN I RECOVER WHEN I PURSUE A PERSONAL INJURY CLAIM?
PROPERTY DAMAGE: A person may have damage to their car or other personal items that were in the car at the time of the accident. An accident victim is entitled to reimbursement for things like broken glasses, clothing which is destroyed, a damaged car stereo, and numerous other items which could be expected to be damaged in an accident.
LOSS OF USE OF VEHICLE: An accident victim may have to have his car repaired or replaced and may be without transportation for a prolonged period of time. An accident victim is entitled to reimbursement for the cost involved in obtaining a rental car or other alternative transportation during the time in which they are without a vehicle.
MEDICAL BILLS: An injury victim can be expected to accumulate medical bills for the treatment which is necessary in order to help him recover from his injuries.
LOST WAGES: An injury victim is entitled to reimbursement for wages that were lost if he is unable to work due to his injuries.
PAIN AND SUFFERING: An accident victim is entitled to receive compensation for pain and suffering which he sustains, or is likely to sustain in the future. Whenever there is a permanent injury, an accident victim should receive compensation for the way in which his injuries can be expected to affect him in the future.
WHAT SHOULD I DO AFTER I HAVE BEEN INJURED AND WHAT KINDS OF THINGS SHOULD I AVOID?
If you have been injured as a result of someone else's negligence, there are a number of things that you can do in order to protect yourself.
TAKE PHOTOGRAPHS: There a number of things that you can photograph which will be helpful to your case. If you are injured in a car accident, pictures of your damaged vehicle are helpful to show the impact. If there is a dispute as to liability, a picture of the accident scene can be helpful. If you are injured in a slip, trip or fall, it can be helpful to take pictures in order to show the dangerous condition. Pictures of cuts, scrapes, and bruises can also be helpful because they offer visible signs of your injuries.
SEEK TREATMENT FOR YOUR INJURIES AS SOON AS POSSIBLE: Not only do you need treatment in order to help you recover from your injuries, but doctors and other medical providers will conduct physical examinations and tests which will provide your attorney with corroborating evidence of your injuries. Delays in seeking treatment lead insurance companies to question your motives. It is also important to tell your doctors about all of your complaints. Sometimes accident victims will only mention what they perceive as their most serious complaints only to have problems arise later on down the line. Clicking in the knee may not seem serious at first, but could lead to surgery down the road.
OBTAIN THE DEFENDANT'S INFORMATION: If you are in a car accident, it is important to identify the name of the other driver and their insurance company at the scene of the accident. It is helpful to contact the police from the scene of the accident, as they will often document all of the information, and they will take statements from the parties. Once time has passed, a driver can decide to change his story. If the police take a statement, then the driver is locked in before he has time to make up his story.
NOTIFY YOUR INSURANCE CARRIER: It is important to notify your insurance carrier if you have medical payments coverage, or if you need a rental car. It is also important if the other driver either does not have insurance or doesn't have adequate insurance.
CONTACT AN EXPERIENCED ATTORNEY: An experienced attorney can assist you in obtaining the best possible settlement for your claim. When you find yourself in unfamiliar terrain dealing with an insurance adjuster, it is helpful to have someone who can provide you with answers and assistance. This can be a tough time in your life and having someone in your corner can make all of the difference in the world.
WHAT SHOULD I AVOID?
Normally, when you are involved in an accident and you have a potential claim, an insurance adjuster who represents the person or entity on the other side will contact you about the claim. There are several things you should avoid when dealing with these adjusters. Remember that the adjuster is not on your side and is trying his or her best to limit your recovery:
DON'T GIVE A STATEMENT TO THE INSURANCE COMPANY: Accident victims are often contacted when they have not had much time to think about the accident or their injuries. It is easy to make mistakes which will hurt your case at some later point.
DON'T SIGN AN AUTHORIZATION: When you sign a blank authorization, you allow the insurance company to obtain medical records for virtually any treatment that you have received during the course of your life. Authorizations should be strictly limited in order to protect your privacy.
DON'T SIGN A RELEASE: If you are given a release, don't sign it. You may be waiving your rights to be compensated for your damages. Instead, contact an experienced personal injury attorney.
If you or a loved one has suffered as a result of a personal injury accident in Missouri, contact a St Louis personal injury lawyer at the Swaney Law Firm regarding your claim.