Truck Accident Attorneys in St. Louis, Missouri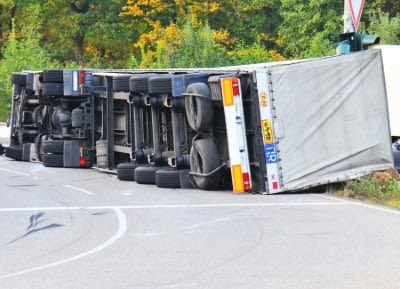 Every year thousands of people are killed or injured in car accidents. Not every car accident victim, however, has a personal injury claim. In order to have an injury claim, there must be a breach of a duty that is owed to the injured person. In car accident cases, each driver has a duty to use what the law describes as the "highest degree of care in operating their vehicle." A driver who does not live up to his duty is said to be "negligent."
TRUCK ACCIDENTS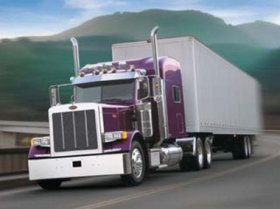 A recent client of ours was a woman in her late 40's. She was driving along Highway 270 and was in the far left lane next to a median wall. Suddenly, a large 18 wheeler pulled up beside her and then began making a lane change into her lane. She tried to ease off her brakes and move over as far as she could, but it was no use. The 18 wheeler struck her car and sent it into the median causing it to deflect right back into the truck. Her car then went under the truck, and by the time the driver realized what was happening, her car had been dragged hundreds of yards down the road.
As she sat behind the wheel of her car, she knew that she had been severely injured. The fire department came to the scene, along with an ambulance and the police, and they attempted to free her from her vehicle.
The woman was taken to DePaul Health Center and required two surgeries on her leg and one surgery on her left arm. She remained in the hospital over a lengthy period of time and was then released. Unable to walk or use her left arm normally, she was not able to return to her job. Shortly thereafter, her bills began to pile up, and she found herself in a predicament. When the adjuster from the trucking company tried to tell her that the accident was partially her fault, she knew that it was time to hire an experienced St. Louis truck accident lawyer.
After a lengthy period of rehabilitation and thorough investigation of her case, we were able to negotiate a substantial settlement which put her in charge of her life once again. While she still has difficulties with her leg and arm, she has a marvelous attitude and feels lucky that she was able to survive. Her car had been completely crushed by the large 18 wheeler, and she saw her life flash in front of her eyes. The driver of the truck never checked his mirror before making his lane change.
While the Missouri Financial Responsibility Law only requires someone driving a car to carry a policy with limits of $25,000.00 per claim and $50,000.00 per accident, Missouri law requires Trucking companies to carry liability insurance with a minimum limit of $750,000.00. This is due to the fact that accidents caused by negligent truck drivers tend to be much more severe than those involving cars.
If you or a loved one is involved in a truck accident, it is important to seek legal representation as soon as possible. When serious injuries occur, insurance adjusters can be expected to immediately spring into action in order to limit their monetary damages. It is important that you likewise spring into action. It is important to have someone who can contact your witnesses and make sure that there is a thorough investigation.
How dangerous are tractor-trailer collisions? This article authored by C. MacAusland and published on SmartMotorist.com provides some excellent analysis on the subject:
Fatalities From Large Truck Crashes
Large trucks account for a disproportionately large share of traffic deaths based on miles traveled. The fatal crash rate for large trucks is 50 percent greater than the rate for all vehicles on the roads.
Large Trucks
Fatalities from large truck crashes have increased approximately 10 percent from 1995 through 1998, moving up from 4,918 deaths in 1995 to 5,374 deaths in 1998. Large trucks – including tractor-trailers, single-unit trucks and certain heavy cargo vans with gross weight more than 10,000 pounds – account for a disproportionately large share of traffic deaths based on miles traveled. The fatal crash rate for large trucks is 2.6 deaths per 100 million vehicle miles traveled more than 50 percent greater than the rate for all vehicles on the roads.
People in passenger vehicles are especially vulnerable in collisions with large trucks because of the great difference in weight between cars and large trucks. In 1998, ninety-eight percent of the fatalities in two-vehicle crashes involving passenger vehicles and large trucks were occupants of the passenger vehicle. Large truck safety is an important concern for all highway motorists.
LARGE TRUCK CRASH FACTS
5,374 people were killed in crashes involving large trucks in 1998, representing thirteen percent of all traffic fatalities. Of these, 78 percent were occupants of another vehicle, 14 percent were large truck occupants and 8 percent were non-occupants. An additional 123,000 people were injured in those crashes. (National Highway Traffic Safety Administration, or NHTSA)

In 1997, large trucks made up three percent of all registered vehicles and seven percent of all vehicle miles traveled. Yet, large trucks constituted nine percent of all vehicles involved in fatal crashes, and four percent of all vehicles involved in injury and property-damage-only crashes that year. (NHTSA, 1999)

In 1998, large trucks were more likely to be involved in fatal multiple-vehicle crashes opposed to a single-vehicle crash than were passenger vehicles (84 percent of all large trucks in fatal crashes, compared with 62 percent of all passenger vehicles). (NHTSA, 1999)

One out of eight traffic crash fatalities in 1998 was the result of a collision involving a large truck. (NHTSA, 1999)

Most of the fatal crashes involving large trucks occur in rural areas (67 percent), during the day (68 percent) and on weekdays (80 percent). (NHTSA, 1999)

A loaded tractor-trailer requires 20-40 percent further stopping distance than a car. With an empty trailer, the discrepancy between the truck and the car is even greater. (NHTSA, 1999)

Of the trucks with out-of-service violations, more than one-third of them have problems with brakes. (Federal Highway Administration, 1998)

All new tractors and trailers are required to have anti-lock brakes. Anti-lock braking systems are effective in preventing wheel lock and loss of steering in emergency stopping, especially on wet roads.

Federal regulations allow drivers of large trucks to drive up to 16 hours a day. However, drivers under the regulations can compile 60 hours in less than five days by alternating ten hours of the maximum permitted continuous driving with the minimum of eight hours off duty. Surveys reveal that many drivers of large trucks violate the regulations on hours of service. Studies also show that driver fatigue plays a role in large truck crashes and that drivers are more likely to crash after many long hours of driving. (IIHS) The Department of Transportation is currently considering a revision of these hours-of-service rules.

Almost 30 percent of large truck drivers involved in fatal crashes in 1998 had at least one prior conviction for speeding, compared to slightly less than 20 percent of the passenger vehicle drivers in fatal crashes. (NHTSA, 1999)
TRUCK SAFETY
Antilock Brakes
Antilock brakes have been proven to be very effective in preventing wheel lock and loss of steering control in emergency stopping, particularly on wet roads. Anti-lock brakes also help the driver keep better control of the vehicle in a skid, and may help prevent a motor vehicle from going off of the road, a key factor in rollover crashes. Advocates believe that antilock brakes should be incorporated in all passenger cars and required in all commercial vehicles, including trucks.
Cab Safety
Truck cabs currently do not have to meet safety standards for passenger cars, including occupant protection standards requiring the installation of three-point belts and airbags. Advocates support standards that increase the crashworthiness of truck cabs through improvements to interior features of cabs and cab integrity, as well as requiring occupant restraints and three-point safety belt systems. (Adopted April 1992)
Commercial Drivers License
Until the implementation of the Commercial Motor Vehicle Safety Act of 1986, truck drivers were able to acquire multiple drivers licenses from different states in order to avoid license suspension or other penalties as a result of numerous traffic violations. This act limits commercial drivers to no more than one license (from their home state), increases uniformity among the states' testing and licensing programs and creates a national network allowing states to quickly check a driver's record. Advocates support the Commercial Drivers License program and the national network that allows prompt and effective tracking of the driving records of commercial drivers and the prompt license suspension of serious offenders. Advocates strongly oppose efforts to allow any additional exemptions from the program other than those allowed under the original legislation. (Adopted April 1992)
Federal Motor Vehicle Safety Regulations
Recent rule-making proposals from the Federal Highway Administration (FHWA) will weaken the stringency of motor carrier safety requirements for hours of service and driver qualifications. Some of the proposals would decrease federal oversight of both trucks and drivers by eliminating certain reporting requirements. In addition, the agency plans, in the future, to review the entire corpus of the Federal Motor Carrier Safety Regulations. Advocates oppose any weakening of current federal rules on hours of service, driver qualifications and vehicle safety measures.
On-board recorders that track the hours of operation of heavy trucks help to enforce hours-of-service regulations and reduce crashes due to driver fatigue. Advocates support requiring onboard recorders to keep automatic records of truck operations. (Adopted April 1992)
Hazardous Materials Transportation
According to the U.S. Department of Transportation, each year more than four billion tons of hazardous materials are hauled on U.S. roadways, some 500,000 daily shipments. In 1990, DOT received reports of about 8,500 mishaps in these shipments. Advocates support rigorous standards for the transportation of hazardous materials to assure adequate protection for those transporting such materials and other highway users.
Gasoline, diesel, and fuel oil shipments compromise more than 95 percent of all hazardous materials trips in the U.S. The federal government should establish standards for the transport of non-radioactive hazardous materials, especially of combustible fuels by tank trucks. (Adopted December 1992)
Motor Carrier Safety Assistance Program
Since the inception of the Motor Carrier Safety Assistance Program (MCSAP) in 1982, the number of trucks inspected for conformance with Federal motor carrier safety regulations has been increased by a factor of ten. However, the percentage of carriers and drivers receiving out-of-service citations has not decreased. Almost one-third of the inspections result in citations for vehicle equipment or hours of service violations. In addition, the program inspects only a small minority of the trucks on the road. Advocates urge strengthening the MCSAP program at both the federal and state level to increase the number of vehicles and drivers inspected and to decrease the percentage of out-of-service violations.
Overweight and oversized vehicles violating federal and state restrictions continue to endanger other highway users and inflict enormous damage to our roads and bridges. Advocates support the extension of the MCSAP program to include MCSAP size and weight inspection and certification actions and supports full funding and implementation of these provisions. (Adopted April 1992)
Radar Detectors
Keeping the Truck Conspicuous with Proper Lighting Display
Regulations governing truck lighting requirements for both cab and cargo units are inadequate and have not changed since the 1940s. Many drivers, especially the elderly with lower contrast sensitivity and poorer night vision, do not detect trucks in enough time to avoid crashes.
Improvements to truck cab and trailer lighting and reflectivity will increase their visibility and prevent crashes by providing early detection and recognition of trucks by motorists. Advocates support federal rules improving truck exterior lighting and establishing an easily-visible lighting "signature" for trucks to improve motorist detection and judgment of the presence, speed, and headway of trucks. (Adopted April 1992)
Truck Size and Weight Limits
Over the past four decades, the United States has increasingly relied on truck transportation to move both industrial and consumer goods. The creation of the Interstate Highway System facilitated a vast increase in truck commerce and has resulted in Congressional approval for larger, longer and heavier vehicles on the nation's highways. At the same time, the average size and weight of passenger vehicles have declined, making the vehicle mix more disparate and contributing to the highway safety problem.
When tractor-trailers are operated in an unsafe manner, other motorists are likely to be the victims. Of the 5,031 people who died in large truck crashes in 1996, only 12% were truck occupants. In crashes involving a large truck and a passenger vehicle, 98% of the fatalities were the occupants of cars, vans, pickup trucks or sport utility vehicles.
Multi-trailer trucks are involved in much more serious crashes than single-unit trucks or typical tractor-trailer combinations because of their tendencies to jackknife, rollover, and suffer trailer separations. Advocates support the legislated "freeze" on the spread of these Longer Combination Vehicles such as Turnpike Doubles and Triple-Trailers outside the states where they currently operate. Advocates also oppose attempts at the state or federal levels to increase the maximum sizes and weights of commercial vehicles and supports efforts to control truck sizes and weights in order to enhance highway safety.
Truck Tires
Adequate tires on heavy trucks are essential to assure the consistent and safe operation of heavy trucks, prevent the need for emergency handling procedures due to tire blow-outs, and to minimize damage from wear and tear on roadways. Advocates support requirements to upgrade the quality and reliability of truck tires (e.g., carcass design and tread depth) to improve skid resistance, stopping performance and fuel efficiency per payload, to mitigate damage to highway pavement and to assure the optimal performance of antilock brake systems. (Adopted April 1992)
Truck Underride/Override Protection
In 1989, approximately 700 passenger car and light truck fatalities were due to side and rear impacts with large trucks. Small vehicles involved inside- and rear- crashes with large trucks have much higher than average frequency of serious physical injury. The front ends of passenger vehicles often slide underneath the cargo units of large trucks; in some cases, the passenger compartment is sheared off. Passenger vehicles are also subject to front underride of large trucks as well as rear override by large trucks; both situations result in serious injuries and fatalities to occupants of the passenger vehicles.
Truck underride and override guards can substantially mitigate the severity of passenger vehicles-large truck crashes. Advocates support federal requirements that underride protection is installed on large trucks. This protection should begin with energy-absorbing rear underride guards that are adequate for preventing passenger vehicles from under riding large trucks. These guards should be required to meet dynamic performance standards. Advocates support NHTSA research into and consideration of protective guards to prevent side underride, front underride and truck override protection. (Adopted April 1992).
A Common Problem in Large Truck Accidents: Driver Fatigue
Driver fatigue is a very dangerous condition created when a person is suffering symptoms of fatigue while driving, often resulting from the hypnotic (Inducing sleep; soporific or hypnosis) effect especially during nighttime (peak levels at night can be 10 times daytime levels) driving either falling asleep at the wheel or so exhausted they made serious – and fatal – driving errors.
However, the early hours of the morning and the middle of the afternoon are the peak times for fatigue accidents. Also, long journeys on monotonous roads, such as motorways, are the most likely to result in a driver falling asleep. Sunlight signals or bodies when to be awake. But even deprived of any natural light, we will still feel a surge of fatigue in the middle of the night and to a lesser extent, in the middle of the afternoon. The latest research also shows the grogginess right after you wake up can also be dangerous.
There's a strong possibility that the driver falls asleep and run off the road. Tiredness and fatigue can often affect your driving ability long before you even notice you're getting tired. Fatigue-related crashes are often more severe than others because driver's reaction times are delayed or they have failed to make any maneuvers to avoid a crash. Symptoms of driver fatigue include heavy eyelids, frequent yawning, a drifting vehicle that wanders over road lines, varying vehicle speed for no reason, misjudging traffic situations, and seeing things "jump out" in the road, feeling fidgety or irritable and daydreaming.
A study by National Central University in Jhongli, Tatung University, Taiwan; recently reported at New Scientist magazine that "driving for just 80 minutes without a break can make motorists a danger on the roads". They found that drivers who do not take frequent rest stops have slower reactions than those who break up long journeys.
People run a higher risk of succumbing to driver fatigue between 2 am and 6 am and during what is known as the "2 pm slump". Studies show the number of accidents increases according to the time of day and the number of hours driven. High-risk occupations include night-shift workers, airline crew, students, commercial drivers, medical staff, sales representatives and journalists.
Enforcement of duty cycle limitations; suppose bus drivers operating on irregular schedules suffer greater subjective fatigue and physiological stress than drivers operating on a regular schedule. Service regulations in Canada reported that after 24 hours of duty, workers experience a 25% decrease in performance.
A new in-depth on-scene study last year in the Vehicle Safety Division, at the Chalmers University of Technology, in Sweden, reveals that driver fatigue, slippery roads, and inexperience could be just as important and should be factored into the design of new vehicle safety features.
Stats of Road Crashes as a cause of driver fatigue:
Recent international research has suggested that driver fatigue is underrepresented in accident statistics, and some estimates show that it could be a contributing factor in twenty to twenty-four percent of fatal crashes.
A study conducted by the Adelaide Centre for Sleep Research shown that drivers who have been awake for 24 hours have an equivalent driving performance to a person who has a BAC (blood alcohol content) of 0.1 g/100ml, and is seven times more likely to have an accident.
In the USA:
In the USA a series of studies by the National Transportation Safety Board (NTSB) have pointed to the significance of sleepiness as a factor in accidents involving heavy vehicles.
The NTSB came to the conclusion that 52 percent of 107 single-vehicle accidents involving heavy trucks were fatigue-related; in nearly 18 percent of the cases, the driver admitted to falling asleep. Summarizing the US Department of Transportation's investigations into fatigue in the 1990s, the extent of fatigue-related fatal accidents is estimated to be around 30%. Research shows that driver fatigue is a significant factor in approximately 20% of commercial road transport crashes and over 50% of long haul drivers have fallen asleep at the wheel.
Recently The National Highway Traffic Safety Administration (NHTSA) estimates that there is 56,000 sleep-related road crashes annually in the USA, resulting in 40,000 injuries and 1,550 fatalities.
An analysis of road accidents between 1990 and 1992 in North Carolina found 5,104 accidents (0.5%) in which the driver was judged to have fallen asleep. A survey of 205 drivers in another State found that 31% admitted having dozed off at least once while driving during the preceding twelve months.
One study calculated that 17% (about 1 million) of road accidents are sleep-related. A 1995 study suggested that 2.6% of accidents caused by driver inattention were due to fatigue.
A study of road accidents on two of America's busiest roads indicated that 50% of fatal accidents on those roads were fatigue-related. Another study claims that 30% – 40% of accidents involving heavy trucks are caused by driver sleepiness. Truck driver fatigue was a particular problem in single-vehicle fatal crashes. In 2002 alone the Total Cost of Fatigue-Related Crashes (in 1999 Dollars) exceeded $2.3 billion.
Rubbernecking, driver fatigue (12%) and looking at scenery were some of the leading causes of distraction-related traffic crashes, according to a study in 2003 over more than 2,700 crash scenes involving distracted drivers and nearly 4,500 drivers; conducted by Virginia Commonwealth University for the Virginia Department of Motor Vehicles.
In 2007 fatigue was involved in at least 18% of fatal accidents and accounts for about 7% of all accidents.
The Government's Road Safety Strategy, "Tomorrow's Roads: Safer for Everyone" identifies driver fatigue as one of the main areas of driver behavior that needs to be addressed if the target for reducing the number of people killed and seriously injured in road accidents by 40% by 2010 is to be achieved.
Common Causes of Truck Driver Fatigue:
Sleep Apnea
A reporter for the Chattanooga Times Free Press stated that, according to the American Trucking Association, 1/4 of its drivers have sleep apnea issues.
Sleep apnea is a sleep disorder characterized by pauses in breathing during sleep. People with sleep apnea are often sleepy during the day. They find that they are still tired even after a nap. When you stop breathing, your body wakes up. It happens so quickly, you aren't even aware of it. This disrupts your sleep process. Individuals with sleep apnea can stop breathing hundreds of times in one night. This makes them feel very tired the next day. Generally, sleep apnea is most prevalent in overweight middle-aged men who snore and have neck sizes greater than 17″.
The Federal Motor Carrier Safety Regulations forbid drivers with sleep apnea from driving until the sleep apnea is treated. FMCSR 392.3 specifically states a trucking company shall not allow a sleepy driver to drive.
The National Sleep Foundation states: Sleepiness combined with driving is a dangerous combination. Most people are aware of the dangers of drinking and driving but don't realize that drowsy driving can be just as fatal. Like alcohol, sleepiness slows reaction time, decreases awareness, impairs judgment and increases your risk of crashing.
It's nearly impossible to determine with certainty the cause of a fatal crash where drowsy driving is suspected. However, there are a number of clues at a crash scene that tell investigators that the person fell asleep at the wheel. For example, drowsy driving accidents usually involve only one vehicle where the driver is alone and the injuries tend to be serious or fatal. Also, skid marks or evidence of other evasive maneuvers are usually absent from the drowsy driving crash scene.
Unlike alcohol-related crashes, no blood, breath, or other objective tests for sleepiness behind the wheel currently exists that investigators could give to a driver at the scene of a crash. This makes police training in identifying drowsiness as a crash factor very difficult. Definitions of drowsy driving or driver fatigue rely on how the concept of "fatigue" is defined. Fatigue is a general term commonly used to describe the experience of being "sleepy," "tired," "drowsy," or "exhausted." While all of these terms have different meanings in research and clinical settings, they tend to be used interchangeably in the traffic safety and transportation fields. There are many underlying causes of sleepiness, fatigue and drowsy driving. Including sleep loss from restriction or too little sleep, interruption or fragmented sleep; chronic sleep debt; circadian factors associated with driving patterns or work schedules; undiagnosed or untreated sleep disorders; time spent on a task; the use of sedating medications; and the consumption of alcohol when already tired. These factors have cumulative effects and a combination of any of these can greatly increase one's risk for a fatigue-related crash. See:
http://www.sleepfoundation.org/article/sleep-topics/drowsy-driving
Unfortunately, truckers who report they have sleep apnea can't drive until it is treated, and the whole time they are under treatment they are not getting paid. Further, if the sleep apnea can't be cured, the drivers will be forbidden from driving. The sad result for the American public is that most trucking companies turn a blind eye to the problem, well known in the trucking industry, to avoid losing drivers for any length of time, placing profits over people. A simple solution would be to find work for the driver that does not involve driving a tractor-trailer, until the illness is treated.
Drivers Who Log More Hours Than the Law Allows
Numbers released from the 2010 Roadcheck show that violations for keeping false logs were up 18% in 2009. Paper logs are often called comic books in the industry because the contents are so false that they are actually funny. Unfortunately, the consequence of logging more hours in a row on a trip than the laws and regulations allow is that tired truckers are on the roadway, creating a significant danger for others.
In order to address this problem, the FMCSA just issued its final rule on Electric On-Board Recorders (EOBR's) which replace paper driver logs. A switch to EOBR's will try to eliminate the problem with falsification of driving logs, and to force truck drivers to observe the law and get off the roadway once the maximum number of hours have been logged. This is a significant and known problem in the trucking industry. The full text of the rule may be seen at http://edocket.access.gpo.gov/2010/pdf/2010-6747.pdf .
The FMCSA has new performance standards for electronic onboard recorders (EOBRs) installed in commercial motor vehicles (CMVs) manufactured on or after June 4, 2012. On-board hours-of-service (HOS) recording devices meeting FMCSA's current requirements and installed in CMVs manufactured before June 4, 2012, may continue to be used for the remainder of the service life of those CMVs. Motor carriers that have demonstrated serious noncompliance with the HOS rules will be subject to the mandatory installation of EOBRs meeting the new performance standards. If FMCSA determines, based on HOS records reviewed during a compliance review, that a motor carrier has a 10 percent or greater violation rate (''threshold rate violation'') for any HOS regulation listed in the new Appendix C to part 385, FMCSA will issue the carrier an EOBR remedial directive. The motor carrier will then be required to install EOBRs in all of its CMVs regardless of their date of manufacture and use the devices for HOS record keeping for a period of 2 years unless the carrier (i) already equipped its vehicles with automatic onboard recording devices (AOBRDs) meeting the Agency's current requirements under 49 CFR 395.15 prior to the finding, and (ii) demonstrates to FMCSA that its drivers understand how to use the devices.
The FMCSA also changes the safety fitness standard to take into account a remedial directive when determining fitness. Additionally, to encourage industry-wide use of EOBRs, FMCSA revises its compliance review procedures to permit examination of a random sample of drivers' records of duty status after the initial sampling, and provides partial relief from HOS supporting documents requirements, if certain conditions are satisfied, for motor carriers that voluntarily use compliant EOBRs. Finally, because FMCSA recognizes that the potential safety risks associated with some motor carrier categories, such as passenger carriers, hazardous materials transporters, and new motor carriers seeking authority to conduct interstate operations in the United States, are such that mandatory EOBR use for such operations might be appropriate, the Agency will initiate a new rulemaking to consider expanding the scope of mandatory EOBR use beyond the ''1 x 10'' carriers that would be subject to a remedial directive as a result of today's rule.
While these are welcome changes, they do not take effect for over a year. Under the present system, some truck drivers will continue to keep false logs and stay on the road for more consecutive hours than the law allows with the result being a significant number of tired truckers on the roadway. Tired truckers are dangerous truckers who are 2.5 times more likely to be involved in an accident. While EOBR's are not perfect and will not totally eliminate this problem, they will surely be better at keeping tired truckers off the roadway than the current methods which are being employed.
St. Louis Lawyers: We Sue Negligent Car and Truck Drivers
In Missouri, there are a number of laws that encompass certain types of negligence. Some examples are violating a signal light or stop sign, driving at an excessive speed, changing lanes when it is unsafe to do so, failing to keep a careful lookout, coming into contact with the rear of another car, making a sudden and unexpected stop, failing to yield, following too closely, driving on the wrong side of the road, making an improper turn and driving while intoxicated. Our legal system provides certain rules of conduct for drivers.
In Missouri, we have a system of law which is known as "comparative negligence." When two drivers are simultaneously negligent in causing an accident, an award of damages to an accident victim is reduced by the accident victim's percentage of fault. If the accident victim has no fault in causing the accident, then we refer to this as a case of "clear liability." Typically, there is clear liability where someone is a passenger in a car, or where someone may be sitting at a stop sign or stop light when they are hit by another driver.
On the other hand, in comparative negligence cases, a jury will be instructed to determine the amount of damages and then reduce the damages by the percentage of the accident victim's fault. If the defendant, for example, makes a left turn in front of the plaintiff, but the plaintiff is driving in excess of the speed limit, a jury could determine that both sides are at fault. If a jury reduces a $10,000 verdict by finding that there is a 40% fault on the part of the plaintiff, then the plaintiff would only receive $6,000 in damages instead of receiving the full amount of damages.
There are some cases in which neither party may be at fault. Let's say that there is an oil spill on a highway, and a car hits that oil spill and loses control. A jury could find that there is no fault since no one was able to control their vehicle. This could apply to situations in which there are ice storms and other intervening hazards or conditions which might excuse someone's inability to otherwise control his or her vehicle.
An accident victim must also prove that an accident caused their damages. If, for example, someone is struck by a vehicle and they begin to experience back pain a number of years after the accident, it would be up to that person to establish that there is a connection between the accident and the subsequent back pain. The burden of proving this connection is on the person who is claiming that the injury caused the injury.
Let Us Help You
Our attorneys are experienced in dealing with auto and truck accidents. An automobile accident can have a devastating financial impact on your health and on your finances. Some of the accidents that we have handled have involved collisions with large tractor-trailer trucks. Oftentimes, drivers of large rigs can be fatigued or easily distracted. Such accidents need to be investigated immediately by qualified auto accident lawyers in order to protect your rights. At the Swaney Law Firm, we are here to make sure that you get everything that you are entitled to under the law. Contact the Swaney Law Firm to speak to an experienced St Louis auto and truck accident lawyer regarding your claim.
Contact the Swaney Law Firm to speak to an experienced St Louis auto and truck accident lawyer regarding your claim.