Wrongful Death Lawyer St. Louis MO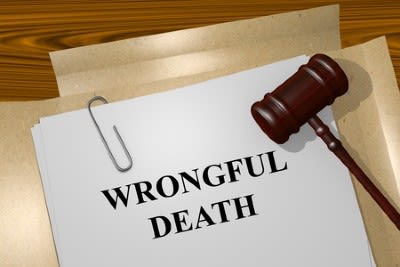 There is nothing more devastating than losing a loved one as a result of someone else's carelessness. There is nothing that can replace the loss of a loved one. At times like this, you should consult with a professional in determining what compensation is available under the law.
ST. LOUIS WRONGFUL DEATH ATTORNEYS
Years ago, our firm met with a group of five brothers and sisters. Their mother was a woman in her early 70's who had retired. All five of her adult children lived within five miles of her. They each saw their mother several times a week, and their family was extremely close. She had been a widow for a number of years and was the cement that held the family together.
One day, this woman was traveling down the highway when she came to an intersection. As she proceeds to an intersection where she had the right of way, she encountered a van that was stopped at the intersection. It turned out that this van was overloaded with materials, including carpeting, thereby partially blocking the view of its driver. The poor visibility caused the driver to pull in to the intersection directly in front of the woman causing a horrible collision which resulted in her death.
The woman's children and grandchildren were devastated, and they came to our law firm to seek legal guidance. While it is impossible to make up for the loss of a loved one, a negligent party has a responsibility to compensate the victims in a Missouri Wrongful Death Case..
WHO CAN BRING A WRONGFUL DEATH CASE?
Under the Missouri Wrongful Death Statute, the parties who are eligible to bring a case depends on the relationship of the survivors to the person who was killed in the accident. Missouri Revised Statute 537.080 §1 states that a case may be brought "by the spouse or children or the surviving lineal descendants of any deceased children, natural or adopted, legitimate or illegitimate, or by the father or mother of the deceased, natural or adopted." If no one fits the description set forth in Section 1, the statute provides that "the brother or sister of the deceased, or their descendants, who can establish his or her right to those damages (Section 2) . . ." In the event that there are no persons who fit the descriptions set forth in the prior categories, Section 3 provides that "the court may appoint a special plaintiff called a "Plaintiff Ad Litem" in order to bring the case."
DAMAGES FOR WRONGFUL DEATH
Missouri Revised Statute 537.090 provides for damages to be determined by a jury in a wrongful death case. There are a number of different kinds of damages that can be pursued.
FUNERAL EXPENSES
The survivors in a wrongful death case can recover reasonable costs involved in providing funeral services and expenses.
CONSORTIUM COMPANIONSHIP AND COMFORT
A spouse can recover for the loss of a relationship with their loved one. This includes not only companionship but the loss of the physical relationship.
INSTRUCTION, GUIDANCE, COUNSEL, AND TRAINING
When a minor child loses their mother or father, he or she loses out on the value of that person's wisdom in making important decisions. Placing a dollar figure on such a loss is difficult to do because you can't put a price tag on it.
SUPPORT
The survivors can claim damages for the loss of financial support where they were dependent upon the deceased. The body of lost wages can oftentimes be calculated by an economist who is an expert in determining what is known as "present value." In other words, if a breadwinner in the family is deceased, an economist can determine how much money would need to be awarded to survivors in order to maintain their financial standard of living.
Where the conduct of the defendant goes beyond normal negligence, aggravating circumstances can be considered in order to increase damages beyond actual damages. Damages cannot be awarded for bereavement which is a general sense of anguish and pain which results from the death of a loved one.
As St. Louis fatality lawyers, we recommend obtaining the services of an experienced attorney as soon as possible. The Missouri Wrongful Death Statute of Limitations requires that a wrongful death case must be filed within three years of the death of the deceased.
Contact the Swaney Law Firm to discuss your claim with an experienced St Louis wrongful death lawyer.