Workers' Compensation Attorneys in St. Louis, Missouri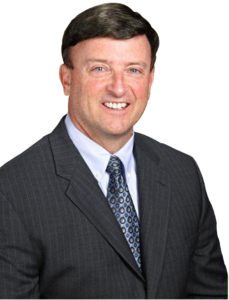 A work injury can happen at any time. Suddenly you find your world turned upside down by uncertainties. There are often questions about whether you will be paid for your time off and whether the workers' compensation insurance company will provide all of your necessary medical treatment. When you are seriously injured, you may be concerned about whether you will ever get well enough to return to your job. You may wonder if your injury will force you to find a different line of work. You do not have to face these uncertainties alone. We help injured workers obtain compensation for their injuries.
Injured workers' are often surprised at how slow and unresponsive insurance companies can be when it comes to meeting their needs. Studies in the State of Missouri have shown that unrepresented workers receive substantially less from insurance companies than those who are represented by a workers' compensation lawyer. The Swaney Law Firm has represented injured workers since 1984. We are dedicated to protecting the rights of injured workers and we work tirelessly to make sure that your claim is handled professionally. Our goal is to make sure that you receive all of your benefits and the highest possible settlement under the law.
Types of Common Workers' Compensation Injuries:
Neck and Low Back Strains and Sprains, Herniated Discs Injuries

Shoulder Injuries such as Rotator Cuff Tears, Strains and Shoulder Impingements

Knee Injuries such as Torn Cartilage Injuries and Torn Ligaments

Wrist and Elbow Injuries such as Carpal Tunnel Syndrome, Epicondylitis, Fractures, and Joint Injuries

Psychological Injuries such as Depression and Anxiety Disorders

Hearing Loss and Loss of Vision

Hip Injuries including Severe Fractures

Injuries to Ankles and Feet caused by Trauma or Repetitive Motion
What Should I Do After An Accident?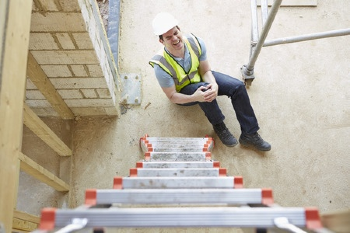 It is important that you make it as easy as possible for your accident to be verified. You can often do this by reporting the accident immediately. If you are not at your place of employment and you have a witness, get the name of the witness so that your accident can be corroborated. If your work injury involves a motor vehicle accident or an assault, you should file a police report. Where there are visible signs of injury such as bruising, cuts, or lacerations, you should have someone take pictures.
Besides verifying the accident, it is important to report your injuries to a medical provider as soon as possible. The longer you wait to obtain or request treatment, the more you leave the door open to skepticism. Medical providers will often document objective signs of injuries such as bruising and swelling. Early treatment also improves your chances of making an excellent recovery. Ignoring injuries can have repercussions. Pushing forward in the face of what might be a tear or fractured bone, for example, increases the risks of aggravating or worsening a condition.
When you report your injuries to your employer, or health care provider, be sure that you report all of your injuries. It is natural to focus on the most severe complaint to the exclusion of other problems. However, painful cracked ribs often heal without complication; whereas an annoying clicking sensation in your knee could lead to a serious surgical condition.
Finally, it is helpful to contact an experienced attorney. If your claim is minor, an attorney may be able to give you advice which will help you handle your claim properly and thus reduce your stress. An attorney will also be able to let you know if you would benefit from legal representation. The Missouri Workers' Compensation law and regulations consist of an extensive collection of rules and guidelines. These laws have been interpreted hundreds, if not thousands, of times by our court system over the years. When you leave for a trip, it is important that you know your directions in order to arrive at the proper destination. An attorney can discuss your options so that you can hopefully achieve the best possible outcome for your case.
Jeffrey R. Swaney, PC proudly serves clients in St. Louis, Bridgeton, St. Charles, Florissant, and throughout the South County area and North St. Louis County, Missouri.
What About the Choice of A Doctor?
Under Section 287.140, your employer, or their insurer, has an obligation to provide medical treatment for your injuries. You do have a right to select your own physician, but unfortunately, at your own expense! There are no deductibles or co-pays when the employer pays for your medical treatment.
On paper, the law sounds reasonable. However, the provision, allowing employers to select medical treatment, is probably the single greatest source of frustration for injured workers. Oftentimes, employees are sent to "insurance company doctors" who have a self- interest in making money from insurance company referrals. If a doctor is seen as being "too pro-patient", an insurance company may decide to refer injured workers to someone who is more favorable to their interests. Insurance companies keep track of their cases and may think that doctors should not recommend certain tests and procedures and should send workers back to work very quickly. In many cases, the insurance company's doctor is more interested in maintaining a good business relationship with the insurance company than worrying about your needs.
In today's society, it is not practical to think that an employee can elect to pay for their own medical costs. Prices of CT scans, MRI's and hospital admissions have climbed steeply. If you are represented by an attorney, you will have some insight into the reputation of the insurance company's selected doctor. You can also have your own doctor conduct an examination and challenge the opinions and conclusions of the insurance company's doctor. Disputes between doctors can be resolved by requesting a hearing. The testimony of your doctor can be presented to a judge who will determine whether your doctor is more credible. A judge can also order the insurance company to pay the bills of the doctor that you have selected for treatment if the judge is convinced that the treatment offered by the insurance company's doctor was inadequate.
Claim Denials
Injured workers ask what can be done if their claim is denied by an insurance company. First, it is important to remember that there is a court system in place to challenge the insurance company denials. The Missouri Workers' Compensation Division has various branches and numerous judges who can decide your dispute.
It is imperative to contact an experienced attorney who can tell you whether the insurance company's position is valid. If it is not, you can hire an attorney with no upfront costs to begin working on your case. An attorney will charge you based only on a favorable result being achieved. An attorney can also assist you in getting treatment while your case is waiting for a hearing. If you have insurance, then a group health claim can be made based on your workers' compensation claim being disputed. If you don't have any medical insurance, an attorney can assist you in finding alternative medical channels such as for example, not-for-profit clinics.
Lost Time Benefits
Your employer, or their insurer, is required to pay you two-thirds of your average weekly wage while you are out of work. The compensation that you receive is not taxable. Your rate of pay is normally determined by the average amount earned over the thirteen week period prior to the date of your injury.
There are numerous problems that can occur in calculating your rate. For example, you may have been absent from work for an extended period of time during the thirteen weeks preceding your accident. The rules for lost time benefits are set forth in Section 287.170. Section 287.160 provides that no compensation is payable for your first three days of lost time unless your disability lasts for fourteen days or more. The employer is required to compensate you for this "waiting period" after you have been off for the designated two-week time period. If you are out of work, you must be aware that, if you file for unemployment benefits, this will eliminate your ability to collect disability payments for the same time period.
Finally, if you are a high earner, you need to note that your lost-time weekly benefits are capped by law. The cap is set forth in a regulatory chart known as "Chart No. 1". Benefits for lost time are referred to as temporary total disability benefits. In order to determine the cap at the time of your injury, you must look at the "effective date" which is listed and the column which is marked "Temporary Total 287.170 Max".
If you have suffered as a result of a workplace injury, please contact the Swaney Law Firm to speak to a Missouri workers compensation attorney about your claim. Jeffrey R. Swaney, PC is proud to serve the legal needs of clients throughout North St. Louis County, the South County area, as well as Florissant, Bridgeton, St. Charles, and the greater St. Louis, Missouri area.