How to Respond to Property Damage
July 15, 2018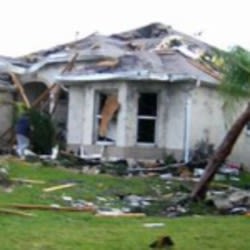 Natural disasters, unexpected emergencies, and basic negligence can all result in damage to your property. Whether it's a hurricane or reckless driver to blame, you need to know how to respond to damage to your home, car, or other valuable property. This guide will get you started.
Learn About Your Policies
How familiar are you with the terms of your insurance policies? Unfortunately, the majority of homeowners, renters, and drivers don't realize that their policies have sneaky gaps that leave them unprotected in the most unexpected situations.
Acts of war, floods, and earthquakes are excluded from nearly all traditional policies and require a separate policy for full coverage. When it comes to your auto coverage, you need to know if your insurance will cover your medical costs after a crash, the other vehicle's damage, and your own car's damage.
You also need to check whether your insurance policy will pay for the actual cost of repairs, or simply the market value of the damaged belongings. The difference can be dramatic! Market value is usually less than replacement value, so it is critical that you know what your insurance policy will do for you in the case of an accident.
Handle Your Claim Quickly and Accurately
Once property damage has been sustained, you need to file a claim with your insurance company to obtain coverage for damages. You risk having your claim denied if you delay filing or file with inaccurate or missing information.
It is vital that you record every small detail of the incident, keep copies of proof with you, and send everything into your insurance company immediately. This gives you important leverage if your insurance company turns around and denies your claim or offers a minimal settlement.
Work With a Lawyer to Challenge Your Insurance Company
Insurance companies are known for their attempts to offer the lowest compensation possible after a damage claim. You don't need to accept this low claim! If your insurance company is not honoring the property damage compensation you deserve, call an attorney to work on your behalf.
Your insurance company will take you more seriously and offer a higher settlement with an attorney involved, and a threat of a lawsuit could help to speed the process along to a fair resolution. Call (314) 310-8373 to schedule a consultation at Swaney Law Firm in St. Louis, Missouri. Attorney Swaney will help you pursue the compensation you deserve.