You've Been In a Motorcycle Accident: Now What?
Dec. 15, 2018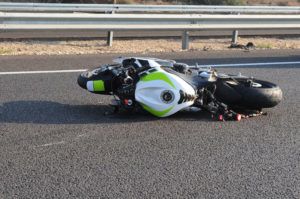 As a motorcycle rider, you know that your favorite way to get around is also the most dangerous way to travel. Whether you're on a slow side street or a busy highway, it only takes one distracted driver or sudden red light to throw you off your bike.
If you were recently in a motorcycle accident, it's essential to take a course of action that protects your rights, proves your case to the insurance company, and maximizes your chances of being awarded compensation for your injuries. Here's what you need to do!
Call the Police Immediately
In order to give yourself the maximum legal protections after a crash, you need to play by all of the rules. This means you need to involve the police immediately and accept medical attention. You'll limit your chances of winning a personal injury case if you try to wiggle your way out of the expected post-accident procedures. What's more, the police records and medical records from the scene of the crash can be used in the future to support your case.
Don't Skip Appointments
It's highly likely that you'll have appointments with your doctor so he can monitor your progress, examine you for any addition problems, and ensure your injuries are healing. If you skip these appointments, you not only lose the opportunity for valuable medical records that could be used in court, but you also damage your credibility by making it appear like you don't have any significant health concerns. You must consider how your actions are reflected, even if your intentions are innocent!
Call a Personal Injury Lawyer Immediately
While you could try to handle your motorcycle accident case yourself, most victims realize they can't properly handle the legal technicalities and complexities of their personal injury case.
You need an experienced St. Louis personal injury attorney like Jeff Swaney at Swaney Law Firm to guide you through the legal process and give you your best chances of obtaining compensation. Attorney Swaney has been serving the St. Louis area since 1984, so he understands the complicated legal system better than anyone. Give him a call today at (314) 310-8373 to get the support you need.